People all over the world are doing what they can to slow and stop the spread of coronavirus, and many are considering the best ways to clean and disinfect their facilities in this new era.
The solution has been in the works long before coronavirus changed the way we live, work and clean.
The Victory Electrostatic Sprayer dispels a charged disinfectant that helps it land on surfaces and evenly spread out, assuring that disinfectant reaches hard-to-reach areas. The result is the most thorough, efficient method of disinfecting today.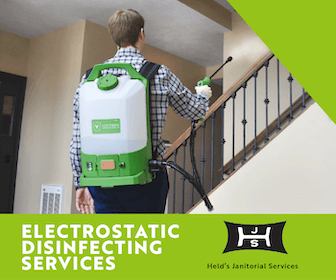 We are proud to use the Victory Electrostatic Sprayer as part of our professional disinfecting services in Buffalo. This invaluable tool has enabled us to perform touchless application of disinfectant, and it allows us to disinfect spaces quickly and efficiently.
Our services are ideal for any spaces that require thorough disinfection against coronavirus and other pathogens, including schools and food processing plants, cruise shops, production spaces, offices, veterinary clinics, healthcare facilities, daycare centers, busses, trains, airplanes and more.
Betco's Triforce Disinfectant is our other secret weapon against coronavirus and other pathogens. Unlike other formulas that require dwell times of ten minutes or more, Triforce disinfects in just three minutes and is effective against a broad spectrum of pathogens, including coronavirus, influenza, hepatitis B & C, HIV and more.
Schedule Our Professional Disinfection Services in Buffalo Today!
If you are worried about coronavirus in your facility, please contact us today to schedule our professional disinfection services in Buffalo. As always, we are committed to creating cleaner, healthier and safer spaces, and we are proud to offer electrostatic spraying for the most complete and effective disinfection possible. Click here or call us at 1-716-854-1408 to contact us.